Kourtney Kardashian, Stick to Your Tumblr Blog
Kourtney, people are dying.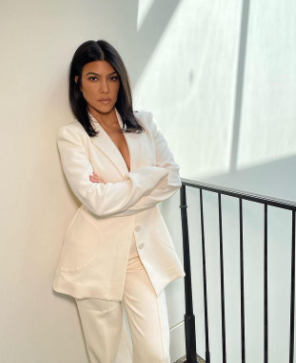 Out of all of the Kardashian/Jenner sisters, I find Kourtney to be the most intriguing. There's something about the eldest Kardashian that draws my attention. Her arrogant demeanor exudes the right amount of confidence that's hard to project. While others may seem flaky and narcissistic (the Kardashian sisters are quite vain), she manages to display her personality through her somewhat rude comments towards her sisters with her monotonous voice. She makes everything seem so effortless and manages to have everything tinged with her quintessential sense of humor. 
Unique personality aside, over the course of a few years, Kourtney's whole brand has become how she lives a "clean" lifestyle, abstaining from unhealthy ingredients (her main proponents are dairy and gluten, despite writing for her app that "[she has] always felt fine before when eating dairy and gluten" and that avoiding the two ingredients isn't a necessity). She's often protesting against unsafe cosmetics and recently made headlines for trying to help pass a bill for "clean" cosmetics, free of harmful chemicals, such as parabens. She seems liberal, often surrounding herself with friends from different walks of life and staunchly advocating for Black Lives Matter through her Instagram. So the "Kanye for President" hat that she wore, posted, then deleted after an influx of hate comments, seemed so out of character. She advocates for science and Black lives through her posts on Instagram. She then endorses a candidate whose main goal was to take votes away from the two viable candidates that actually had a shot at the presidency.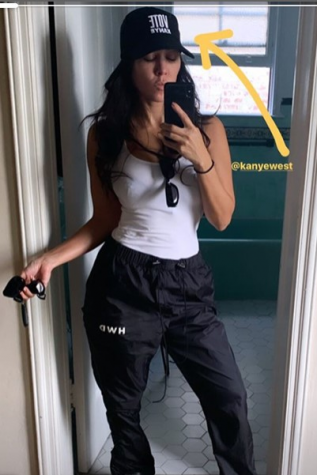 Credit: Instagram Stories @kourtneykardash
Kanye West's political views are very anti-science and restricting –  he has stated multiple times that vaccines are "the mark of the beast" and that the government "[wants] to put chips inside of us" when administering vaccines. West is also very anti-abortion. At his campaign rally in North Carolina, he stated that "Planned Parenthoods have been placed inside cities by white supremacists to do the Devil's work," with no facts or evidence to support his claim. Kourtney endorsing Kanye is the antithesis of her posts advocating for and supporting Black women and the Black community. Then, the final nail in the coffin for me was her recklessly posting to her Instagram stories that masks can cause cancer due to the chemicals used in making them. She accompanied her post with shocked and mindblown emojis, detailing her feelings about the so-called "finding."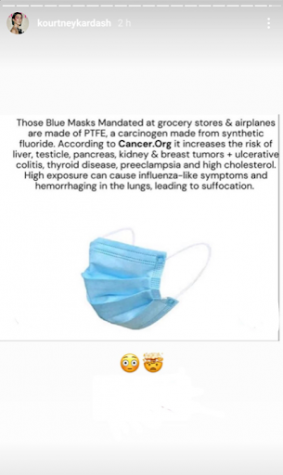 Credit: Instagram Stories @kourtneykardash
When I happened on the post while swiping through her Instagram Stories, my lips curled in disgust, and I quickly clicked out of it. Why would she post that? I thought. It is beyond me why she thought she could so casually make a post about masks, which have become very controversial as many remain divided on whether masks are necessary, despite the Center for Disease Control strongly urging people to wear them to reduce the spread of COVID. The main thing I was wondering when she posted that was, did she research masks and read credible articles before posting this? You would think a celebrity of her status would be aware of the impact of posting on their social media.
Kourtney and the rest of the Kardashian family are very controversial figures. They have solidified their status as America's first reality TV family and have achieved such notoriety; they will make the news for simply walking to a restaurant for dinner, countless paparazzi shots capturing every step. Most importantly, the Kardashian reach is hard to escape; Kourtney has 54.5 million followers on Instagram. Many of them impressionable young teens who would believe whatever their idol posted because she couldn't possibly be misleading them, right? Wrong. PTFE, the "carcinogen" that Kourtney lists in her post as one of the chemicals in masks that causes cancer is "a synthetic polymer consisting of two simple elements; carbon and fluorine" (nes-ips.com). According to the American Cancer Society, "PTFE itself is not suspected of causing cancer…That's because PTFE is inert. It will not react with other chemicals inside or outside of your body". USA Today has conducted research and has consulted various medical professionals for their expertise and findings on whether masks cause cancer. They have found that "[based on our research,] it is false to state that a mask will give its wearer lung cancer…some masks include PTFE, but [many critics often] mislead readers about potential health risks associated with this material, especially when it comes to chemicals remaining in the finished product… Scientific evidence has also shown [that] masks are effective in preventing the amount of virus one is exposed to and are effective in preventing COVID-19 transmission."
Above all, Kourtney's post does not make any sense. It takes common sense to realize that surgeons and doctors have been using masks for decades when performing surgeries and coming in contact with sick people. There have been no scientific findings or correlations between masks causing cancer, and if there were, I have full confidence that it would be all over the news. Social media has created this false sense of intimacy by allowing us to get a peek into a celebrity's life by the photos they choose to share. We completely forget that their lives are so much more different than the average person's because this small peek into their world makes us think that we're apart of it, even if it's for a brief amount of time, whether it's a picture they took in the Caribbean or a video of them jumping into the ocean on their private island. The Kardashians will never be relatable to us. They are so out of touch with reality that they can post, talk about, and do whatever they want with little to no consequences, while us normal people following our idol's advice are the ones that will suffer. Who could forget the disastrous Kylie Jenner Lip Challenge from 2015? It was a classic example of a celebrity misleading their fans, leading to them doing the dangerous "challenge" of sucking on a shot glass until their lips were enlarged from the lack of blood supply. 
We can't forget that Kourtney has the money and resources to be ignorant and that us normal people don't. If she were to get COVID, she would receive the best treatment, likely in a private facility, because of her status. Hospitals are spread thin and are overwhelmed by the vast amount of people coming in with cases. COVID cases within the nation are rising, we are running out of ventilators, and a person that will likely not suffer the consequences of contracting the virus should shut up and not dole out their holistic "advice" to their enormous following and on their blog that's a glorified Tumblr page. Kourtney needs to stick to posting and to promote her articles about "The $10 Hack to Grow Your Hair Naturally" in her effort to seem relatable to her audience and as though she doesn't use hair products worth hundreds of dollars. How do we know that this isn't a marketing strategy? It would be such a typical Kardashian move to capitalize on the controversy and buzz surrounding masks, fear monger and plant seeds of doubt and speculation within their impressionable audience, and then later promote "chemical-free" masks that Kourtney's brand, Poosh (how ridiculous is the name "Poosh" for a brand?) has made as a solution.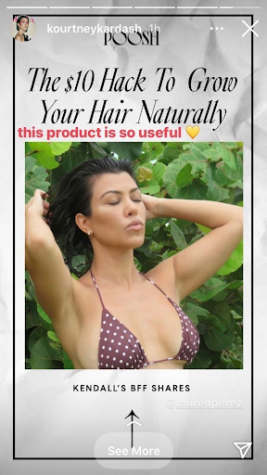 Credit: Instagram Stories @kourtneykardash
Popular culture and society have made it so that we idolize and put people on pedestals so that we have something to look up to in the hopes that we will be even a little similar or could achieve even a little of what they have. We can't forget that much of what is displayed to the public is a facade to seem relatable and that much of what celebrities have can never be achieved by the average person. In the case of Kourtney Kardashian, we must not forget that celebrities aren't experts and that many of them did not achieve more than a high school education before being catapulted into stardom. Blindly following someone who carelessly posts that masks will cause cancer will do us no good. Hopefully, with the show Keeping Up with the Kardashians ending, her and her family's insane amount of influence and reach will begin to diminish, and they will fade into obscurity.
View Comments (3)