#BoycottMulan – Here's What You Need To Know
Disney live action films are an innovation of the 21st century. Advanced filmmaking and technology has allowed Disney to bring to life nostalgic, classic animated films with critically acclaimed actors taking the big screen instead of an animation. Each live-action film is highly anticipated by fans, and Mulan was no different. That was until new information came to light after the film was released—in the closing credits, Disney specially thanked certain political organizations for granting them access to film in certain areas. One of those places was Xinjiang, where China's concentration camps are primarily housed.
Over the past few years, China has been systematically working towards detaining Uyghurs, a mostly Muslim ethnic minority native to China, and forcing them to renounce their religion through inhumane ways. According to Connor Murrary for Vox, the Uyghurs detained in the camps are reportedly "facing mass [forced] sterilization, forced labor, sexual assault, and intense surveillance" as well as many other atrocities such as torture, inter-ethnic marriages to diminish the Uyghurs, and children being taken away from their families and placed in boarding schools or orphanages.
"
This isn't indoctrination, it's eradication."
— Dr. Erick Sidick speaking to the Byline Times.
China has vehemently denied that these crimes against humanity occur within the camps and has even gone so far as to defend them, instead calling them "reeducation camps" that are geared towards making the Uyghurs within learn how to speak Mandarin Chinese and acquire labour skills. However, data leaked from one of the prison camps has revealed that inmates are "locked up, indoctrinated, and punished" through means of torture to have the Uyghurs forsake their religion of Islam. CJ Werleman reports for the Byline Times that "up to nine million Uyghurs are unaccounted for" and that "[there are] allegations that the Chinese authorities plan to kill, incarcerate or convert the whole of the minority population." Dr. Erick Sidick, a Uyghur American who is also the president of the Uyghur Projects Foundation, claims that "the total number of Uyghur detainees in camps in China and those presumed dead now exceeds the total number of Jews detained and killed during the Holocaust."
Others are also mainly taking issue with the actress who was cast as Mulan in the live adaptation. The actress, Liu Yifei, has come under fire for her comments that she shared on a Chinese social media platform, Weibo (Weibo is a Chinese blogging platform to follow topics, people, news, as well as upload photos and videos). Yifei stated, "I support Hong Kong's police, you can beat me up now." Her statement was a response to an incident where protestors attacked a Chinese media reporter who seemingly said the same phrase to protestors. Yifei's comments upset many due to how police brutality and violent clashes between protestors and law enforcement were prevalent during the time, as Hong Kong was undergoing political unrest and pro-democracy protests. Additionally, her comments ignited anger and struck a nerve with many because people in both Hong Kong and the United States are protesting against police brutality, and Yifei has publicly announced that she is in support of the approach to brutalize protestors. Many have pointed out the irony of Yifei condoning the violence law enforcement has shown towards the protestors, as this seems to contradict the values of the character she is portraying. The story of Mulan is not just a myth told to young children; Hua Mulan was a real person from the Northern and Southern dynasty eras of China. She was a brave warrior who courageously fought against tyranny and injustice, and when examined closely, Yifei's beliefs and Mulan's appear incongruous.
Activists are calling for a boycott of Mulan because of the controversy surrounding the lead actress' remarks, and Disney's stance, as displayed in the closing credits, has shown to be problematic. Many seem to be in agreement of what Twitter user and Hong Kong activist Joshua Wong stated—"I urge everyone who believes in human rights to #BoycottMulan"—as the amount of money raked in from its opening has proved it is neither a box-office success in China nor the United States.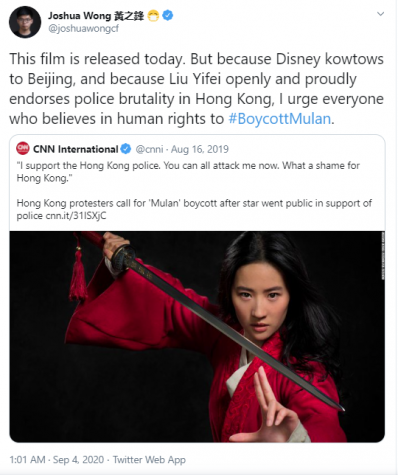 View Comments (6)