The Rebel Cannon: Historic Sparks of a Rivalry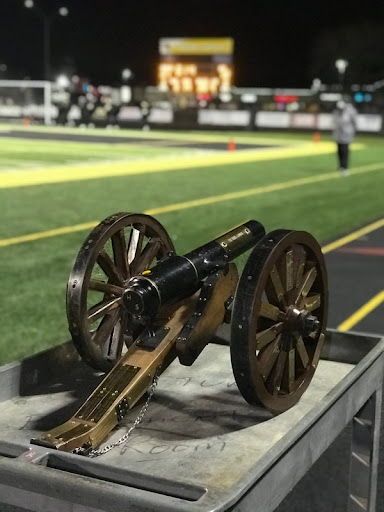 1966. Hinsdale South takes the field against Downers Grove South for the first time, ushering in one of the most iconic football traditions in West Suburban Conference history: the Rebel Cannon game.
The Rebel Cannon is Hinsdale South's prized, although unconventional, trophy. 
"The Rebel Cannon, to me, means something we battle for every year," stated captain and linebacker Griffin Carr. "We train all year for it, and it is the highlight of our football season."
The cannon was constructed in 1966 by two Hinsdale South Industrial Tech teachers – Armand LeCrone and Dick Buban – to mark the occasion of the first ever HSHS vs. DGS match. The administrations of both schools agreed that the winner of each annual HSHS vs. DGS game would get to keep the trophy until the following year, when they face off again.
The first ever HSHS vs. DGS game, which started the tradition of the Rebel Cannon, came to a draw, marking 1966 as the only year in the infamous matchup's history to end in a tie. But, the following year, 1967, the Hornets reigned victorious, keeping the cannon in the Hive's possession for the following three years. 
When the Rebel Cannon is won over, the victors have the responsibility of updating the rivalry's all-time record with a plate. As of 2021, it stands at 34-21-1, with DGS in the lead.
Yet, the cannon is more than just an icon of school conquest; it's the heart of the football team. 
To Robbie Spang, quarterback and captain, the Rebel Cannon signifies tradition from both schools. "To me, the cannon means tradition. It is a great way to honor those who have played football at both schools in the decades prior to us."