Love is All Around Us
Valentine's Day is a national holiday in which we celebrate our most vital emotion: love. This international holiday is fast approaching, and stores are filled with pink, heart-shaped balloons, and candy. Valentine's Day however, is celebrated on different dates and with different traditions around the world. So, let's see how different countries celebrate this meaningful holiday!
1. France
France is known as the "Epicenter of Romance." It is believed that the first ever Valentine's Day card originated in France, when Charles (The Duke of Orleans) sent love letters to his wife from prison in the year 1415. Through this, his wife's hometown called "Valentine" is transformed into the city of romance on the 12th and 14th of February. It is on these dates when marriage proposals peak in number, and floral decorations fill the streets, yards, trees, and home.  
2. South Korea
In South Korea, Valentine's Day is very romantic and celebrated as a "day of confession." Women give chocolates to their male lovers, expressing their love towards them. However, men are not able to return gifts until White Day, which is celebrated on March 14, a month after Valentine's Day. 
3. Argentina
Argentina does not celebrate Valentine's Day in February. However, they have a special week, "the week of sweetness," celebrated in July. On this day, lovers exchange kisses and sweets to commemorate their love for one another. 
4. Wales
Like Argentina, Wales does not celebrate Valentine's Day in February. It is actually celebrated on January 25th, and referred to as St Dwynwen's Day. Instead of exchanging chocolates and sweets on this day, lovers give each other intricately carved wooden spoons to symbolize their love. This long-held tradition has been celebrated since the 16th century.  
5. Spain
In Spain, the day of love is celebrated later in the year, on October 9th. This day is known as the Feast of Saint Dinosys. The Spanish celebrate this day by making marzipan figurines called macadoras. The figurines are made by men to gift to their female partners. One can also witness colorful parades on the streets of the villages of Spain.
6. Romania
If you're looking for some very romantic and unusual celebration of Valentine's Day around the world, then Romanians won't disappoint you. The day, Dragobete, is celebrated on February 24th, and it is known as the day where couples get engaged. The day is a mix of Valentine's Day and the Spring Celebration. Young men and women go to the forests to pick colorful flowers, while other couples wash their faces with snow as a sign of good luck.
Leave a Comment
About the Contributor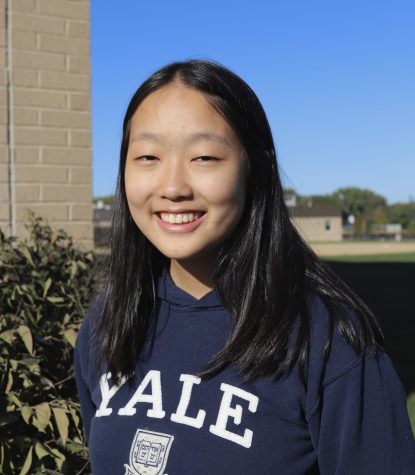 Grace Choi, Editor-in-Chief
Senior Grace Choi is the Editor-in-Chief in her third year on Stinger staff. Grace competed in the IHSA Journalism State Series in 2022, placing 1st in...