Olive Oil Cake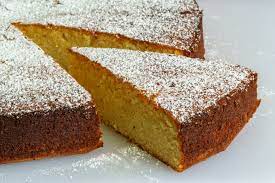 Unless you've been living under a rock, you've likely heard of olive oil cake made by the bakery Little House Confections. Popularized by Kylie Jenner on Instagram, olive oil cake is the latest dessert trend. Those who don't live within distance of the bakery have taken to making the cake at home, and the trendy cake has made its way to TikTok. Considering the popularity, I, of course, had to try it out for myself to see if it's worth the hype. 
When I was on the hunt for the ideal recipe, one that isn't too complex or required many ingredients, I happened upon this one. 
I love how simple this recipe is and how it requires basic ingredients. The best way for me to describe the flavor of this cake would be floral. When incorporating zest, I used orange zest instead of lemon since I prefer it more. You can hardly taste the olive oil and the true flavor that shone through was the orange zest I used. The texture of the cake was light and fluffy and the flavor was subtly sweet. I think this cake would be great for a quick breakfast, snack cake, or light dessert. 
While the cake itself was good, the recipe instructions could use improvements. The first time I tried this recipe was disastrous. I followed the instructions exactly, yet the sides of my cake came out burned and the center was raw. I recommend reducing the oven temperature to 330℉, covering the cake top in the oven with foil paper once it's golden, and baking for around 33 minutes. If you're using orange zest instead of lemon zest like me, zest one large orange so the flavor isn't overpowering.