Don't Call Me Mama Anymore: The Story of Cass Elliot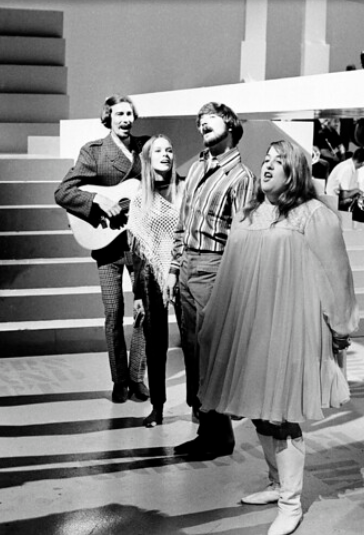 Cass Elliot (better known as ¨Mama Cass¨ from the Mamas and Papas) met her end in her London flat on July 29th, 1974. One month later, The Rolling Stone released an article stating that Cass died as a result of choking on a sandwich while in bed. That was a lie; her manager Allan Car suspected that it was an overdose and told a columnist the fib to ¨save her reputation.¨ In reality, there were no drugs in her system, and instead, she died from heart failure. She is now forever known as the singer who died from eating a ham sandwich. Instead of celebrating a beautiful life cut short, the masses continue to associate her with a terrible lie and with a group who tried to dim her shining stardom. 
 Ellen Naomi Cohen was a brilliant woman despite dropping out of high school, she had an IQ of 165.5. Her first stop after dropping out was New York City to pursue her dream of being a Broadway actress. While she was there, she formed her first singing group The Big 3 in 1963. She found some success with the band and another group called The Mugwumps, but didn't reach stardom until 1965 when she was with the band The Mamas and the Papas.
The Mamas and the Papas consisted of Cass Elliot, Denny Doherty, Michelle Phillips, and John Phillips. From day one there were problems. Firstly, John did not want Cass in the group because he felt like she would ruin their image. He made false and ridiculous claims about her, saying that eyes were too close together or that she did not have the right vocal range. In reality, many people speculate that he did not like the fact she was overweight. When Cass told her band mates that she was pregnant, John asked her when she was getting an abortion. The band only lasted for about three years and after the split, Cass Elliot finally felt free and went on to have a successful solo career. 
The Mamas and the Papas' last hit was "Dream a Little Dream of Me¨ but it became Cass Elliot´s theme song when she began her solo career in 1968. In 1969, she had her first hit ¨It's Getting Better¨ and a year later she released hits such as "Make Your Own Kind of Music¨ and ¨New World Coming.¨ In six years, Elliot released five solo albums, her last being titled ¨Don't Call Me Mama Anymore¨, released in 1973. Not only was Cass creating music, but she also appeared heavily on television during the same short period. She starred in two television variety specials, The Mama Cass Television Program (ABC, 1969) and Don´t Call Me Mama Anymore (CBS, 1973), and was a favorite guest among shows such as The Mike Douglass Show, The Andy Williams Show, and The Johnny Cash show just to name a few. She was a guest host for The Tonight Show and was a guest on it a total of thirteen times. 
Although her impressive resume portrays a woman who had everything under control, she was suffering internally. Because of years of recreational drug use, repeated weight loss/gain, and exhaustion, Cass had set herself up for heart failure. On April 22nd, 1973, she collapsed before an appearance on The Tonight Show starring Johnny Carson and was rushed to the hospital. In a way, this was the beginning of the end for her. 
Shortly before her death, Elliot landed the gig of her dreams. She was going to have a two-week engagement at the Palladium in London, England. After the final performance, she called ex-band member Michelle Phillips from The Mamas and The Papas and told her that she had received a standing ovation. Michelle stated that she believed that this was her way of saying that she finally broke free from her old band. Cass Elliot died later that night on July 29, 1974.
On paper, Cass Elliot's life comes off as tragic: another talented artist dying young. While she may not be here to create more music for the world, her art and memory will live on. She had endless amounts of confidence and kindness that she was able to share with her music. Despite being known for the Ham Sandwich conspiracy, Cass still left a major impact on the music industry. Her shining personality will live on forever like she once famously sang in the song "Dream a Little Dream of Me": "stars fading, but I linger on dear."
View Comments (6)