A Creative Art Fair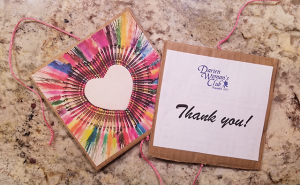 Whether you're a stick-man artist or a Picasso, you can't deny that art is one of the most commonly used creative means of expression. Especially during the COVID-19 pandemic, many of us look for a way to let loose and channel our emotions somewhere, such as a blank canvas.
The Darien Woman's Club is an organization that "has always been at the forefront of promoting the arts in our community"  (thedarienswomansclub.com) and with the cancellation of the annual Youth Art Fair, they have recently announced a new project. In a recent partnership with Hinsdale South, the project, "We HeART Our Heroes" aims to "thank the teachers, doctors, nurses, food workers, first responders and all others who have worked so hard to care for those affected by the pandemic" Everyone in the community is invited to participate and contribute. 
If you want to participate, you can pick up a 6″x6″ cardboard art canvas in the Hinsdale South Main Entrance Lobby. The Darien's Woman's Club will "put the finished art pieces together to create larger pieces to be installed in various locations around Darien for all to admire". Be sure to drop off your completed piece at Hinsdale South's Main Entrance before May 21st at 3:00 PM as all artwork will be picked up by then. 
According to South's newsletter, Hornet Happenings finished pieces will be brought back to the school for students to view if they missed seeing them in the community. 
Questions? Please contact Maricela Guzman of the Darien Women's Club at [email protected] .