Sparking Change
Amid a global pandemic, the death of Geroge Floyd set off a wave of protests against police brutality and systemic racism. In turn, these demonstrations have encouraged the growth of local activist organizations, such as Hinsdale for Black Lives Matter (HinsdaleforBLM).
At the beginning of summer, District 86 alumni and current students organized a Black Lives Matter (BLM) protest in Hinsdale. At the peak of BLM protests in the United States, they were able to successfully demonstrate in downtown Hinsdale with around 500 people on June 6th. After their march, they had a moment of silence outside the Hinsdale Police Department and concluded with a speaking event at Burlington Park.
From there, the organizers decided to form HinsdaleforBLM. Each of their nine members is either a District 86 alumnus or a current student.
"I felt compelled to […] start HinsdaleforBLM because I didn't see any other independent group in Hinsdale already organizing protests […] to promote and push for racial justice and equality," co-founder and team member of HinsdaleforBLM Mohammad Ahmadi said.
Currently, the demands of HinsdaleforBLM align with those of the Black Lives Matter movement, which include, but are not limited to: reparations, demilitarizing law enforcement, defunding the police, economic and climate justice, investing in marginalized communities, and radical prison reform. Additionally, HinsdaleforBLM hopes to create greater awareness in their community and schools, while also highlighting the voices and works of Black Indigenous People of Color (BIPOC) in their area.
With respect to the COVID-19 pandemic, the youth-lead organization has encouraged social distancing and face masks at all their events. They also arranged a food and supply drive on June 21st and 22nd for families from the South and West sides of Chicago affected by COVID-19. 
Nonetheless, similar to other BLM groups, HinsdaleforBLM has encountered its fair share of opposition.
"Surrounding the protest we organized in June, we did receive [a] lot of backlash. Many people were concerned about the possible occurrence of violence and looting in Hinsdale," Ahmadi said. " […] Others, motivated by their ideas of white supremacy, attacked us for simply saying 'Black Lives Matter'."
In response to Pete DiCianni's controversial actions at a Blue Lives Matter demonstration, HinsdaleforBLM started a petition calling for his removal as chair of the Health and Human Service Committee in Dupage County. Along with Indivisible DuPage, Naper Youth for BLM, Elmhurst Alliance for Racial Reform, Lombard Allies for Racial Justice, TIER, and Carol Stream Community Activists, HinsdaleforBLM then organized the Retirement of the Majority rally.
At the July 14th rally, hand sanitizer and masks were handed throughout the event, and a free COVID-19 testing car caravan was also available. However, the coalition of local groups faced counter-protests who washed away their chalk drawings and showed their support for DiCiani at the DuPage County Board Meeting that was occurring at the same time. In the end, DiCianni stepped down from his chair position.
"Just to point it out, the opposition we have been getting has come almost exclusively from older, upper-class white folks and also some youth [..], who refuse to believe that racism exists in our town and simply because they aren't targeted by it and don't encounter it on a daily basis like black people and other people of color do," Ahmadi said. 
Suburban towns that makeup Dupage County, such as Hinsdale, do tend to be conservative and less receptive to liberal organizations. Yet, Ahmadi has a different perspective:
"Hinsdale being a majority white town present[s] a good opportunity for us to educate residents, spark new conversations, and push for changes." 
Currently, HinsdaleforBLM is working on the Hidden Stories of Hinsdale. This particular campaign gives a platform for students, teachers, and other community members to speak up about the times they have experienced or seen racism, sexism, homophobia, and Islamophobia. Additionally, HinsdaleforBLM plans on working with local alumni groups to implement changes in District 86's curriculum, organize a climate strike on September 25th, and a campaign to promote voting in the 2020 Election.
"[Local activist organizations] remind our officials […] that they must use their positions of power and influence to directly make the changes that need to be made in order to create a better future for their people," Ahmadi said. "By bringing the fight to their backyards and constantly putting pressure on them from all directions, we are much more likely to see real, robust action from them on issues that impact the lives and futures of residents and constituents."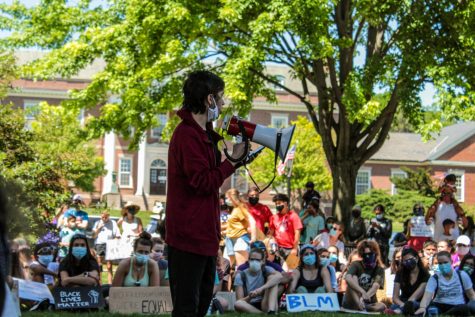 More information about Mohammad Ahmadi:
He is a student at Hinsdale Central, the Communications Coordinator for Earth Uprising International, the City Coordinator for Earth Uprising Chicago, the Founder and President of the Hinsdale Climate Coalition, the Illinois Youth Climate Movement Ambassador for Hinsdale Central High School, 
He can be reached at:
For more information about HinsdaleforBLM:
Instagram: @HinsdaleforBLM 
Leave a Comment