Powerlifters are all too familiar with the sensation of adrenaline coursing through their veins and blood pounding in their ears as they conquer the grueling feat the sport entails: lifting the maximum weight their bodies can handle. So how do students train their bodies to perform such an audacious task?
Chris Gumban and Sean Lohmeyer, teachers from the performing arts department and former collegiate-level competitors, established a club in April of 2021 to assist aspiring athletes with just this. From just a few kids lifting in the basement of Hinsdale South, the club has exploded, reaching countless students from various grade levels and backgrounds. 
Ijaaz Hasan is one of these dedicated members. Fitness has always been an impactful part of his life, so for him, the gym is a comfortable setting. However, transitioning from bodybuilding to powerlifting has required sizable changes to his routine. 
The club has a set schedule: Monday is for squatting, Tuesday is for benching, and Friday is for deadlifting. Each lift is accompanied by a multitude of accessories that prioritize different muscle groups. 
"On my squat day, I do leg accessories such as lunges and step-ups. On bench days, I do tricep and other chest accessories like incline dumbbells and tricep extensions," said Hasan. "And then on Friday, I do upper back exercises like lat pull-downs."
While bodybuilding is for aesthetic purposes, powerlifting aims to increase maximal strength. 
"It's more sets but with a lower rep range. For bodybuilding, it would probably be like three sets of 8-12 reps, but here, it's probably like five sets of 2-6 reps," pointed out Hasan.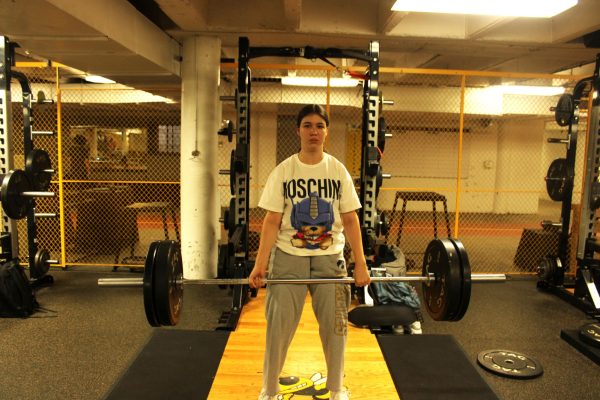 What makes powerlifting unique is that it can be geared to match individual goals. With it being dependent on genetics and lifestyle, there isn't a universal weight goal or expectation.
Iris Matijas, a foreign exchange student from Serbia, recently joined South Strength to build her muscular endurance.
"I've always wanted to do weight lifting, but I was always scared to start alone because I didn't know what I was supposed to do," stated Matijas.
With advice from sponsors and the supportive community around her, she's implemented new practices that have allowed her to thrive.
Matijas said, "Just recently, I started eating Sour Patch Kids before I PR. I also borrow my friends' pre-workout."
As well as food choices, lifting gear like belts, knee sleeves, and wrist wraps have helped athletes reduce strain and provide extra support. Members have been eager to share their equipment with newcomers like Matijas.
As December draws near, sponsors Lohmeyer and Gumban anticipate strong performances from all athletes in their first competition representing Hinsdale South.