The Reality of Being a Male Dancer in High School
The rigor and remembrance of the movement rehearsed every night in the studio is not the only challenge that male dancers face; many struggles surpass the studio walls.  
DJ Dorchack dances at DLD Dance Center, as a member of the Future Legacies team. The Future Legacies perform at big hip hop competitions around the Chicagoland area. Dorchack has been dancing since the age of four, and has trained mainly —but not exclusively— in the style of hip hop. 
"It's good to have one good thing you're the best at, but being versatile will help you improve at the main thing you want to improve at" Dorchack said. 
His teammate Mason White, a dancer and instructor at DLD, recounts how as a guy, the experience of trying new styles in dance can, in certain instances, be frowned upon, 
"There are also times that we get shunned for trying things that mostly girls would do such as ballet," said White. "One time we were at a dance convention and the ballet teacher made fun of us for taking her class, we felt horrible about ourselves, being a guy dancer is a big challenge, and we continue to battle these assumptions and stigmas every single day."
In addition, male dancers are burdened with people making assumptions on their identity and sexuality. With all of society's accumulated social normalities, men are riddled with the notion of fulfilling "masculine qualities", such as authority, dominance, and strength; when in reality, there is no such thing as a masculine or feminine quality because attributes describe one's character not their sex. Though there are still people who deny dance to be a sport that checks those ignorantly stereotyped boxes of masculinity. 
"My friends and I have experienced numerous times of being bullied by people who would use the term 'gay' in a very derogatory way towards us," White said. "And it hurts a lot, they shun our passion, and it makes us feel like we can't be and express ourselves through what we love most, which is dance."
Dorchack adds, "Regardless of one's sexuality they can do whatever they want."
Though, these dancers do not let others' words get in the way of pursuing their passion for dance. 
Recognizing oneself's strengths, improvements, and accomplishments is a driving force that keeps athletes committed and dedicated to their work. Dorchack's strengths are his facials and the amount of power he puts behind his movement. 
Mason White vehemently believes there is importance in boys sticking with dance and being a part of the male dancer community.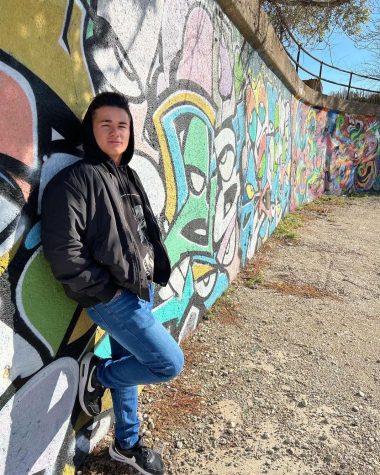 "It's important for guys to dance because for us it is the core way to express ourselves, it's a way for us to have an outlet to stay sane, just like how sports is for guys who play football, basketball, soccer, baseball, etc," White said. "I've met so many amazing people in the hip hop and dance community overall, I've learned so much about myself, and I've been able to get through so much with dance, I don't know who I would be without it, boys should keep dancing no matter what people say."
Despite the hardships —physical and social— the satisfaction of the sport will ultimately override the negative aspects, according to the sentiments expressed by these experienced male dancers'.