Stepping on to Greatness
This weekend, Hinsdale South's step team—the Eta Sigma Steppers—hosted their first annual step competition. Eight teams from across the region joined South's steppers in showcasing their skills and competing to finish at the top. The event was judged by former steppers, representing the Divine Nine, a group of historically black fraternities and sororities that shaped step into what it is today.
Stepping is a synchronized percussive dance in which performers use their bodies to produce rhythms and sounds through footsteps, clapping, and spoken word. Its origins can be linked back to the Stono Rebellion in 1739; enslaved rebels drummed as they marched calling for more slaves to join the rebellion. Subsequently, white colonists outlawed drums to prevent communications between slaves. As a result, percussive dancing became prevalent, replacing the drums with bodies. Stepping served as a way to connect with traditional African dance and culture that was denied to African Americans throughout much of history. 
However, the type of step that is most recognizable today developed on college campuses during the 20th century. The Divine Nine, a group of NPHC (National Pan-Hellenic Council) fraternities and sororities, began incorporating stepping into Greek Life through "Greek Sings", in which they would sing songs, along with step movements as a rite of passage for initiation. The NPHC helped popularize step during a time when African Americans faced discrimination and were denied essential rights and privileges. 
Step performances are judged based on the team's appearance, the complexity of steps, and the team's skill. Many teams base their steps on a theme or story, often using the latest music and trending pop culture to catch their audience's attention. "The students perform better when the crowd has high energy and is engaged," said the coach, Mrs. Alexander, "[Teams] also get scored based on the crowd's reaction."
After deciding on a theme, the team then moves on to creating chants that help tell a story. Following that, steps are created by members and then arranged to fit alongside the chants. By piecing together different steps, chants, and music, the team is able to create an immersive show that captivates their audience. 
This season, the Eta Sigma Steppers welcomed in a new coach, Mrs. Alexander. Mrs. Alexander began stepping in middle school, after her older sister joined a sorority and started teaching her steps, as well as the history of the Divine Nine. As the coach, she is responsible for advising students on what is required for their performances, as well as modifying steps based on the guidelines. 
"I was extremely excited to be the new step coach… It was a challenge to rebuild the team and gain the trust of the students," Mrs. Alexander expressed. Despite the obstacles, she made sure to listen to her students and their needs, giving them credit for her successful first season as a coach.
Team manager, Dezire Golden, had attempted stepping in the past but never found herself sticking with it. However, under Mrs. Alexander's leadership, she feels that the team has greatly improved, "Mrs. Alexander is awesome.. and I'm happy she's the new coach because now [the] step team is actually recognized for something… before they didn't even have the chance to perform at school."
The Eta Sigma Steppers also bid farewell to their seniors as it was their last performance on the team. Medina Moussa, Hinsdale South senior and stepper, describes her experience on the team as positive and meaningful, "I made connections and made friends with other people and learned to express my emotions through movements and rhythms." 
Moussa moved to the U.S. from Cameroon in December of 2021 and this was her first year on the step team. As a life-long dancer, she previously practiced traditional African dances and began stepping here at Hinsdale South. Moving to the U.S. was a huge journey for Moussa, almost like beginning a new life. On this journey, she had to meet new people and adapt to their cultures. Despite these challenges, Moussa strived to be open with others, and joining step helped broaden her views about the U.S. and the history of African American culture. Moussa hopes to continue stepping in college alongside a sorority.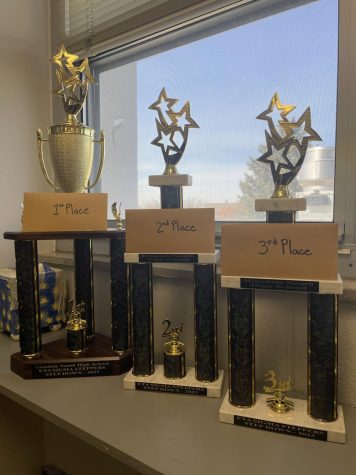 After an exhibit of skillful performances by all nine teams, Yorkville High School's Stepping Foxes took home first place and a cash prize of $300, with their Bride of Chucky skit. Second place was awarded to the Kappa League and third to Homewood Flossmoor. Although the Eta Sigma Steppers put in their best efforts with a football themed act, they unfortunately did not place among the top three. Despite their loss, the Eta Sigma Steppers enjoyed hosting their first ever competition and hope to continue this new tradition.