Voices of Hinsdale South: Welcome to Stinger Studios
Think of the last time you listened to a podcast or streamed a song on your phone, turned on the radio or watched a news app notification pop up. Everyday, music and journalism are throwing themselves at our faces, begging us to listen to the voices of the past, present, and future. 
At Hinsdale South, these voices are emerging outside of our very own Stinger articles with Stinger Studios: Recording & Broadcasting (R&B) club.
Founded in 2020 by South Alumni Henry Sullivan, Matt Sagat, Tomiwa Olu, and Rayhan Shah, R&B club is home to two studios for recording music and podcasts. Club equipment includes mixers, MIDIs, speakers, and studio mics. In room 340, South students can find Studio A, a space focusing on music recording, including an Alesis Nitro Mesh 8-piece electronic drum set, and Studio B, for podcast-geared club members. The studios provide access to various recording software programs, including Logic Pro and FL Studio.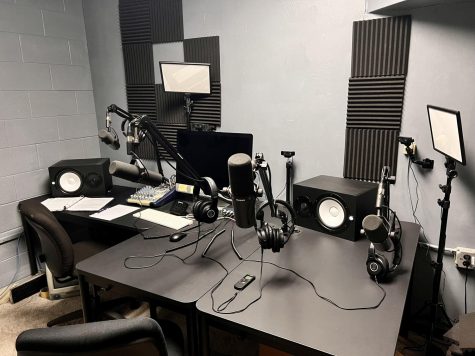 Junior Jayonna Allen, known by some as her stage name JTR, is thankful for R&B club, a space that has allowed her to grow as a performer and find people who have aided her development, allowing her to "
become better".
For more information on how you can make your voice heard, contact club managers like Lily Levine, Jamile Nadine Booc, and Collin Caldwell, staff advisor Ms. Elizabeth Fisher, or pay them a visit in room 340.