In the Flesh
A Profile of Victor E. Hornet
With the thought of unveiling a masked figure, people often paint a visual image in their brains resembling scenes from classic cartoon Scooby Doo or horror movie Halloween. Though not everyone hides behind the anonymity of a mask to perform a heist or serve some other malevolent purpose. Some people choose to hide their identity to embody a symbolic figure striving to represent the voices of a collective body; this is continuously exemplified in the admirable spirit of Amerie "Mimi" Flowers, the student behind Hinsdale South's mascot, Victor E. Hornet.
The Hornet – what some may consider a sacred symbol of the school – has been depicted in various forms for clubs and sporting events: flashing armbands, fiddling a tune on a flute, or trapping a soccer ball. Though, as Mimi discovered from Consumer Economics teacher Mrs. Yurchak, while students weren't shy to showcase the character on their sweatshirts, none expressed enthusiasm to become the character themselves. Even Flowers admitted "I'm not the type of person to do that" but a small part of her viewed it as an optimistic opportunity to focus on her personal battle with mental health and "step out of [her] comfort zone".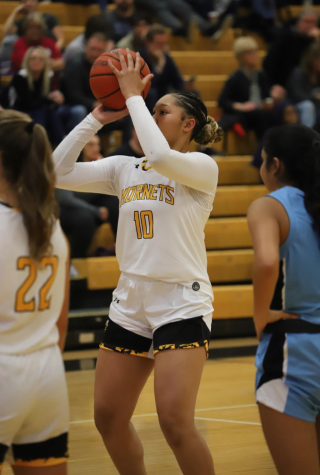 Emerging from a period of uncertainty and social disadvantages in regard to school, this year, Flowers found comfort in showing South Pride both with and without the stinger. She explained, "freshman year I was remote my whole year and last year was difficult with the restrictions and everything." By expressing interest in extracurriculars like the Homecoming Committee, Principal-Student Advisory Board, basketball, softball, volleyball, track, Art Honor Society, and photography, she found freedom and a way to emerge from the coronavirus chrysalis. Flowers mentioned, "I'm the type of person that wants to do everything. This year it actually feels normal but it's my junior year." She took this reality to heart, noting how "That's the sad part about life."
Amidst juggling morning activities, she managed to secure time for Hot Chocolate with the Hornet, an occasion she believes "gives people a positive start to their day". It's a simple way to recognize diversity in the community; for Mimi, "[she has] found that being the hornet brings her joy because it makes other people like the Special [Education] Department dance, it brings [her] so much joy to see them smile". She hopes that others will have the "mindset to involve people who are different from us" as well.
At the end of each episode of Scooby Doo, the uncovered hoodwinker grumbles "if it weren't for you meddling kids" upon being exposed. Flowers, however, remains indifferent to the secrecy of her identity, hoping her story and role will serve as an inspiration for current and future students to "keep pushing and try new things". She dedicates the heart of the true high school experience to "getting involved and showing school spirit", a notion she lives by on a daily basis whether it be collaborating with teachers or bringing sizzling energy to the stands at football games. 
Anybody can be the Hornet. How will you?