Passing of Pelé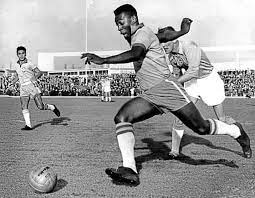 Edson Arantes do Nascimento, more famously known as Pelé passed away at age 82 on December 29th, 2022. The Brazilian football player impacted the game tremendously. 
In 1956, he joined Santos FC and won 10 Campeonato Paulista championships. Throughout the 21 years of his career, Pelé scored 1,283 goals in his 1,367 professional matches.
At the young age of only 16 years old Pelé made his national team debut. Pelé is the only player to ever win three world cups, of which he won in the years 1958, 1962, and 1970. He created the Brazilian style of soccer which he called "jogo bonito" or the beautiful game. Joining the American Soccer League for the New York Cosmos in 1975 Pelé was able to promote soccer in the US, diversifying the sport's culture. 
Pelé became so popular that his club, Santos, decided to tour internationally to showcase his skill. Nigeria was one of the many countries to verse in the African leg of the tour. In the midst of a Nigerian civil war, between the federal government and people of Biafra, a ceasefire was agreed upon for 48 hours so Brazil could face off against the Green Eagles of Nigeria. The love for the sport and bonds to Pelé united the broken region to temporarily give much needed peace to the land. 
His death came right after the final of the 2022 FIFA World Cup in which Argentina won therefore Pelé was able to watch the new generation of great soccer players perform at their best. As a result of a progression of colon cancer, Pelé passed away in Sao Paulo, Brazil. From an impoverished village of Trés Coracoes Pelé started out with humble beginnings and led his way to a legendary ending. His skill and story will be remembered by all true soccer fans.