In the Mind of an Athlete
Everything from an athlete's daily routines to their diets are decided by the sports they participate in, putting in hours of training with their respective teams. While most training can be done with teammates, there's one aspect an athlete must conquer on their own: mindset. 
Athletes' training continues up until seconds before their competitions, and their last seconds are spent getting themselves in the spirit of the game and finding more motivation to play their hardest. Though this type of training may not be seen, it has proven to be one of the most crucial parts of being an athlete.
Pre-competition routines are common among many athletes. They may last all day or just a few minutes, and typically involve certain superstitions.
Senior Rudy Flores bowls for the Hinsdale South boys varsity team and will continue to bowl in college at St. Francis. 
When asked about pre-match routines, he turned to music to help him get ready for his match.
"I have a playlist I always listen to on the way to bowling. It's just some pump up type of music," Flores said.
Junior Andrew Musil has been wrestling since 5th grade and has an extensive routine to get him into the mindset for his matches.
"The biggest thing that I do is envision myself winning the night before, during warmups, and right before I shake hands. I envision every move I'm going to hit and how I'm going to execute it perfectly," Musil stated.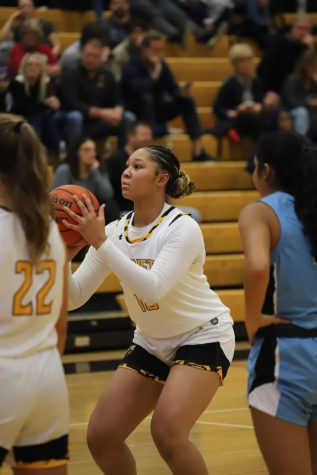 "I try to win mentally before I can win physically."
Flores also highlighted the importance of religion in helping them through his bowling matches.
"Just before every match I always go first," Flores said. "I kneel on the lane and pray to God I do good and for the strength I need to get through the match."
Like Flores, varsity girls basketball center Mimi Flowers also turns to her religion to get her zoned in before her games.
"Something that I've been doing for almost a year now is praying half way through the national anthem," Flowers  stated. "It's helped calm my nerves and helps me gain focus, especially when going up against a good team."
Photo courtesy of Sophia Schiappa
All three athletes agree that the implementation of mindset doesn't go away during the game. Staying zoned in during competitions proves to be an important and influential factor of success in their respective sports.
Flowers credits her in-game mindset to her hope to continue playing basketball after high school.
"Another thing that I've recently started doing this season is getting into an 'I don't care, I have to do my best' mood because this is my junior year, where there's more opportunities for scholarships. I have to constantly remind myself that I have to push myself each and every day because basketball is what I want to do with my life," Flowers stated. 
Musil notes that having control of the match is key, as it allows you to take it at your own speed.
"One of the biggest things I do to focus during matches is be able to control the match at my tempo. Having control of a match takes a lot of time and experience but once you get it, it makes it a lot easier to logically think about moves."
The key to Flores' success comes from his ability to control how he deals with pressure.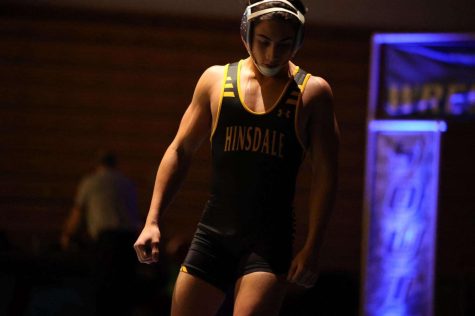 "During the match it's just not overthinking and not putting too much pressure on myself, which is something I just overcame in our last tournament. When the most pressure was there, I just somehow stopped feeling it."
Flores also thanked varsity boys' bowling coach Kraig Conyer for pushing him to reach this new achievement during the past tournament, saying he called him out on his overthinking and helped him to stop putting so much pressure on himself.
Musil also credits his coaches for keeping him zoned in.
"Another thing is listening to my coaches in the corner while I'm wrestling," Musil said. "Even though I'm going 110%, I'm making sure that I have open ears."
Mindset does not require the use of heavy weights, a five mile run, or hours of team practice everyday. Even so, it has still proven to be a vital part of any athlete's training and plays a huge role in the success of many athletes. Mindset may be overlooked, but its importance in any and all sports is unmatched.