From Pawns to Kings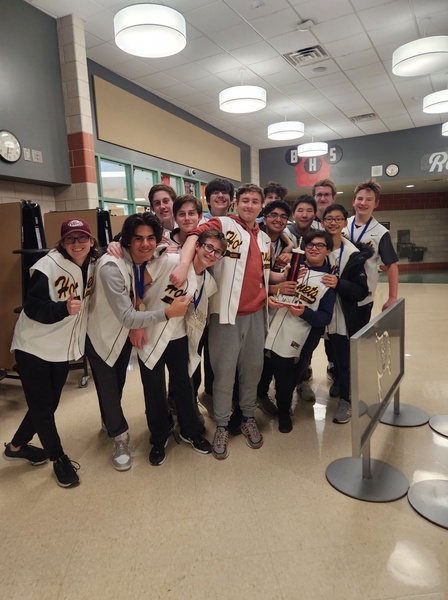 On the morning of December 3, 2022, the Hinsdale South Chess Team departed for the annual Bolingbrook Raider Tournament with a total of 34 participating teams. Each team consists of 8 players ranking the best and worst from 1 to 8. The team section of the tournament consists of four rounds with each team facing each other, the winners moving up in the rankings each round. Every round lasts around 90 minutes with each side having 45 minutes. 
In the first round, Hinsdale South matched against Lincoln-Way Central. The perpetual fight lasted and the round eventually came to an end with a promising result: 56 to 12. Hinsdale South began with a strong start, winning their first round. 
Round 2 was against Neuqua Valley, a formidable opponent that has been rivaling South for a while, however the Hornets persevered and secured the win with a score of 42.5 to 25.5. 
The opponent for the third round was intimidating: IMSA. However, Hinsdale South continued its winning streak, defeating them with the score of 42 to 26. South's victorious momentum resulted in a victory against Tinley Park with the outcome being 49.5 to 18.5, bringing Round 4 to a close.
Hinsdale South, full of satisfaction with their 4 wins and 0 losses, thought the tournament was over, but was surprised with a tiebreaker round against Naperville North. For this tiebreaker, the time control had significantly decreased from 45 minutes to 5 minutes per person. This left Hinsdale South at a disadvantage due to their inexperience with such little time on the clock. The games were over so fast with devastating results: 12 to 56 with Naperville North taking the win.
Although Hinsdale South took a heavy blow from Naperville North, they still took 2nd place with smiles on their faces and a trophy that had not been won in over 20 years.