Cold Paws, Warm Hearts: How Yarning for a Cause is Supporting Animal Shelters
As the autumn leaves lose their vibrant hues and the season officially comes to a close, jack-o '- lanterns eerily illuminating porch steps are replaced with pine-scented wreaths garnished with ribbons. Wide-eyed children ogle at a whimsical display of the Polar Express, anticipating the arrival of St. Nicholas while the sweet aroma of freshly-baked gingerbread cookies drifts through the air. A spectacle of fireworks bursts like paint splatter across the night sky a minute after midnight. Communities rejoice as they partake in a multitude of festivities and traditions extending across the winter season.
Unfortunately, if we take a moment to lower our gaze from the shimmering sky to the vacant parking lots and dim alleyways, the somber reality is that not everyone, or in this case, not every domestic animal has a place to call home during the holidays as temperatures dip below zero and layers of snow begin to coat the streets. Various shelters are taking action to care for these pets who may have been abandoned and neglected by offering medical assistance and introducing the possibility of adoption. This year alone, nearly 1,514,000 animals have been retrieved by animal shelters in the U.S (shelteranimalscount.org).
Hinsdale South's very own Yarning for a Cause is finding ways to pitch in locally. Together, they're embarking on a heartfelt mission to deliver festive cheer and warm spirits to canines and felines alike at The West Suburban Humane Society located in Downers Grove by donating snuggle blankets. The non-profit organization identifies as a No Kill shelter, meaning that unless incapable of rehabilitation, euthanasia is never the answer for lack of space or time.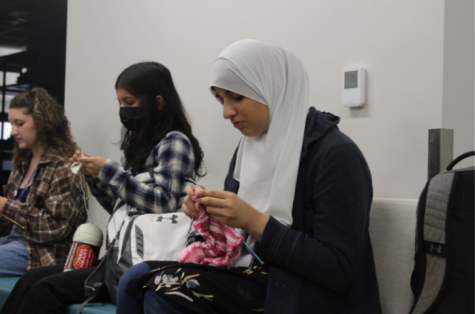 The idea piqued the interest of sophomore Elena Rahman who decided to join the club earlier this school year despite lacking prior experience. Over the course of a month, she has developed numerous skills pertaining to knitting and crocheting. One thing she's learned is that timing can be subjective based on the project. While "scarves usually take a few weeks, something like a snuggle blanket could take almost a month." Currently, she's tackling both projects and spends her evenings tangled in pink and red yarn as she stitches together a scarf for Christmas.
This is merely a single project the club annually dedicates itself to. In recent years, they've also created tug dog toys and knitted scarves for the homeless. For many members, this is an opportunity to serve their community and pursue a new passion, and for others, this isn't their first rodeo. Nonetheless, each and every member has poured their heart and soul into this cause.
It's been an endearing experience for Manal Diab who has been an ongoing contributor to this project for the past 3 years. When reflecting upon her knitting journey, she recalled a happy accident she stumbled upon while first learning to knit. "I remember during one of my projects, I was stitching backwards and I later discovered that what I was doing was actually called 'purling'." Since then, she's grown in so many aspects, especially with expanding her knowledge of stitches. Now that she's conquered snuggle blankets, she has a new target in sight: granny squares.
Both Rahman and Diab intend to utilize their newfound talents to spark joy in loved ones. Rahman admitted enthusiastically, "I can't wait to be the grandma at family events that says 'I want to knit you a sweater!'". 
So, thanks to Yarning for a Cause, neither families nor animals will find Jack Frost nipping at their noses this holiday season.