The Hornets Mafia: South's Super Fans
From neon construction vests to sun hats, the Hinsdale South fan section sports numerous appearances every Friday night game day. Students pack the stands wearing outfits to match the predetermined theme, making everyone look out of place yet matching under the stadium lights. 
Behind these wacky ideas are essentially the super fans of all Hinsdale South Athletics, the Hornets Mafia. The organization attends most sporting events to cheer on fellow Hornets in their games, matches, or events. 
Led by seniors Anthony Lavorato and Nate Marcopulos during the football season, and Dylan McMurray and Griffin Carr through the basketball season, the club organizes the outfit themes and stand entertainment. 
The Hornets Mafia enhances the atmosphere of football games with activities that generate excitement through the student section. Some highlights include the Slip N' Slide in the stands during the Hawaiian themed game, and the hotdog eating contest at halftime during the USA themed game.
"This is our last year. We probably won't be able to be leaders of a student section ever again," said senior member, Anthony Lavorato.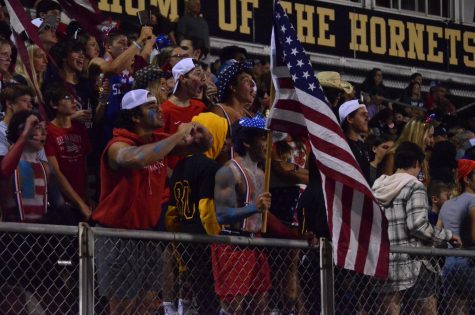 The jobs of leading the Hornets Mafia are passed down from the seniors to the juniors each year. When it comes time for the heads of the fan section to end their time at Hinsdale South, they inherit the task of selecting the next generation of Hornets Mafia members to carry on this tradition.
 "I think we set it up for the next generations of the Hornets Mafia," said Lavorato.
The Hornets Mafia has made outrageous themes a hallmark of football games, creating an exhilarating environment to get wrapped up in each fall for the Friday nights where the Hinsdale South community can come together in sharing cheers and chants for the Hornets.