Training, Mindset, Rest
The Foundation of Hornet Football
Friday nights filled with students cheering in the stands, dressed up according to the theme, and exuding South Pride, are core memories that will shape students' high school experience. Though it is easy to disregard the aspects of the game that take place off the field.
Each player has their individual opinions regarding the topics of; independent training in correlation to mindset and rest, when approaching their season's intensive training schedule. 
Senior Eli Terrell has played for Hinsdale South's football team since freshman year and can be seen wearing number three on the field. Whether he is weightlifting alone at a public gym or running routes with a couple friends on the field, Terrell is constantly bettering himself as an athlete.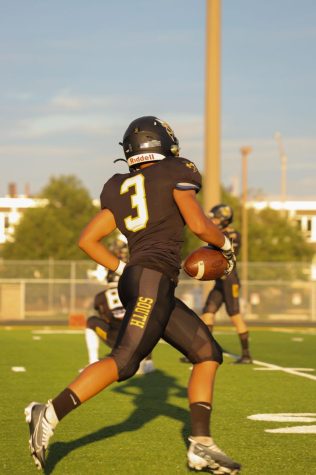 "I prefer to train early in the morning to get it out of the way," Terrell said. "I force myself to go because if I wait till later in the night I'll make more excuses on why not to go."
As he trains during the football season he also keeps in mind the consequences and benefits that different workouts will have on his playing.
"In season I do less heavy lifts so I don't get sore and injured. I still lift, but just to maintain strength and keep my body moving.  In season I do mostly cardio because in games the energy level needs to stay up and in shape, so I don't get as tired in the games".
As each game approaches the team alters their weekly practice schedule to adhere to the players' bodies, keeping them in the strongest physical shape. 
The beginning of the week consists of physically exhausting training and the week ends with practices that are less intense.
As much as physical training enhances the Hornet athletes, rest is a key component in making one a successful athlete on game day. 
Resting can be a challenge when one enjoys being active, but South's Varsity Safety, Sam Schyler, recognizes the benefits of rest when an athlete seeks the avoidance of injury. 
He keeps himself busy outside of football practice by golfing with the football team. 
When developing a winning team the players mindset is a crucial part of cultivating success. 
Varsity player Nathaniel Fundator, number 88, gets into the game day mindset by listening to music and envisioning what he is going to do in the game. 
"A couple hours before I listen to more chill music, but an hour to 30 minutes later I listen to heavy metal music," Fundator said.
The crowd is also a dominant component of the game for the players.
Fundator always looks for his parents, supporting him in the stands, and glances at the student section to see who is there.
"With the people there, it helps me get in the zone. Since there are so many people, it makes me want to play better," Fundator added. 
He also thinks that it is funny to hear the fan section yelling funny chants after a play.
Sometimes it can be hard to keep a positive mindset when the team is losing, but Fundator thinks the main thing to do is: trying to remind everyone of how hard the team works each week to prepare for this moment so no one should want to give up.
The interplay between training, mindset, and rest all influence Hinsdale South's dynamic football team.