The Cast of Carrie: Teamwork, Dedication, Showmanship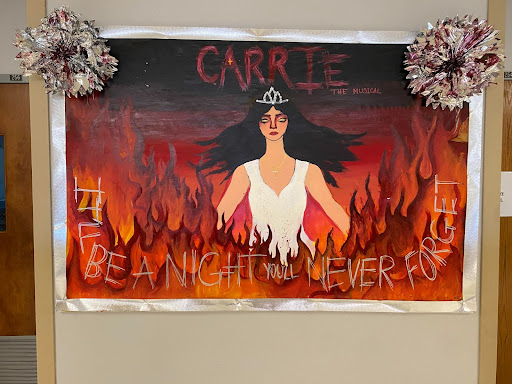 The musical "Carrie" is a theatrical interpretation of Stephen King's vengeful 1974 novel, which follows an awkward and shy teenage girl, Carrie. At home, she faces the struggle of an unhinged mother controlling her with religion. At school, she confronts adolescent bullies. The twist is that Carrie has telekinetic powers, which she uses in destructive retaliation whenever she reaches her breaking point.
This year's cast consists of many talented actors and actresses from Hinsdale South and is directed by Danny Yuska. 
This cast exemplifies the dedication it takes to put on a show with professionalism. Members must manage busy schedules, which include rehearsal six days a week. 
Since each musical entails a different cast, full of new personalities and talents, each year's musical experience is one the students will encounter only once in a lifetime.
One of those crucial members of this year's production is Treasurer of Drama Club Sophia Yen, who was recently cast as Sue Snell.
Yen started acting at age 10. Ever since she broke her arm playing basketball in seventh grade, she has immersed herself in theater. She took that painful situation as a sign to quit sports and pursue acting. 
From September 19 to November 13 Yen's time is consumed with running lines, learning choreography, and routinely testing the acoustics in her home's bathroom.
Each practice starts with a mini meeting to set up a game plan for what the rehearsal will entail. Then the cast gets into blocking scenes, vocal rehearsals, and picking up group choreography.
The time commitment can be a struggle when trying to maintain grades, but the actors' perseverance and the discipline acquired throughout the musical process can be translated into the classroom. 
When Sophia gets home at 6:30, she immediately starts on homework. "I have four AP's under my belt," Yen explained. "I go home, start my homework and eat dinner at the same time. When I work out, I do it while reading my homework, but it's worth the struggle"
The night of the show is always an exemplary representation of the cast's zeal to work hard through every tough rehearsal, in order to ensure their best work is presented. 
"I embrace the process but at the same time, once the show is in full swing, I can look back at all we've done and where we are at now. It is so gratifying," Yen said.
Another talented actress, cast in "Carrie," as Miss Gardner, is senior Destiny Prater. This year she holds the position of Vice President of Drama Club.
"My favorite memory so far has been the whole experience, the process of being in the musical," Prater said. "Being with all my friends while doing something we love to do, it's very memorable." 
College awaiting her next fall, Prater has a bright future ahead of her. She will continue to pursue her dreams of acting after her successful high school career, where she developed skills throughout the participation in productions of "Fiddler on the Roof," "Rent," and now "Carrie." 
"I want to be on the movie screen," Prater remarked. "I want to make an impact in the world and make everyone laugh. I do it without knowing it sometimes, so I feel like it's my calling in life"
This year Prater holds a role at rehearsals that involves being a leader of the cast, as she has been in every musical since her freshman year.  
Though the experience can be taxing during the musical's most intensive phases, the relationships developed between this year's unique and talented cast will create strong bonds that last.
Come see Hinsdale South's Production of Carrie from November 11th through the 13th in the auditorium!