The‌ ‌Aaron‌ ‌Rodgers‌ ‌Saga‌ ‌Continues‌ ‌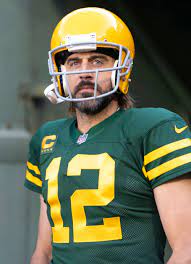 Here in Chicago, Bears fans have never needed a reason to hate Aaron Rodgers. The Bears-Packers rivalry and crucial losses at his hands, including the 2011 NFC Championship have fueled their rage towards him for years. Most recently, his words to Bears fans in the recent Packers victory ("I still own you!") have added kindling to the flames. But recently, Bears fans have not been alone in their dislike towards him.
As many know, Rodgers infamously deceived the public by claiming he was "immunized" against COVID-19, leading everyone to believe he had received the vaccine. Following a positive test result, many were surprised and angered to find out that he had not actually taken the vaccine. He was eventually fined by the NFL for attending a gathering on Halloween, but was not suspended from playing.
Though Rodgers publicly apologized on the Pat McAfee show, he shocked fans with his reasoning for not taking the vaccine. He claimed he was allergic to the ingredients, which some medical experts doubt, as this is a very rare phenomenon. Rodgers attempted to convince the public that he was doing his part to stop the spread of COVID, claiming he wasn't "some sort of anti-vax flat-earther." He insisted that he had conducted careful research and was confident that he was taking medication that could protect himself and others against the virus just as well. Rodgers' image was further damaged when he revealed he had been taking advice from comedian and podcast host Joe Rogan, whose controversial stance on the vaccine has not been well-received by the public. 
Almost a month has passed since these events have occurred and Rodgers' standing with the fans has not changed. In fact, some have expressed frustration over the fact that another player, Antonio Brown, has been suspended from playing three games over falsifying his vaccination card while Rodgers was merely fined. The fact of the matter is that Brown's actions are worse as he broke the NFL's own rules by explicitly lying to the league, but distaste towards Rodgers makes it seem unjust. 
Amidst the drama, the Packers' 9-3 record has been ignored. Rodgers' chances of winning an MVP could very well be affected, even though according to expert Bill Simmons, "he is the odds-on favorite and it's probably not even close." Simply put, his off-the-field actions have greatly harmed his image and rumors of where he will play next season continue to swirl around him.