Are the Bulls Back?
It was April of 2020 when Bulls fans finally heard some good news about the team: the reign of the notorious front office tandem known as GarPax (named for general manager Gar Forman and president of basketball operations John Paxson) was coming to an end. Paxson was replaced by Denver Nuggets general manager, Arturas Karnisovas, who hired Philadelphia 76ers executive Marc Eversley to take over Forman's duties. The new front office – known as AKME – would go on to fire the vastly unpopular coach Jim Boylen, replacing him with the much more respected Billy Donovan. AKME would have a largely uneventful 2020 offseason, drafting Patrick Williams with the 4th pick in the NBA Draft and  signing veteran Garrett Temple to a team-friendly deal, stating that this season's major goal would be to evaluate talent. 
Prior to the beginning of the 2020-21 regular season, many analysts' opinions toward the Bulls had not changed, many pointing out their young core as inexperienced with little chance of making the play-in tournament, let alone the playoffs. These views seemed to contradict AKME's mission statement of bringing competitive basketball back to Chicago. The critics seemed correct, as despite the best efforts of emerging All-Star Zach Lavine, rookie Williams, and the veteran players, the Bulls were a mediocre team hovering around 9th or 10th seed in the Eastern Conference. By March, apparently enough talent was evaluated as the Bulls made a blockbuster trade for Orlando Magic big man, Nikola Vucevic. They made another deal involving the Washington Wizards and Boston Celtics, acquiring three new players. Many were impressed with AKME's moves to vault the team into playoff contention, and especially were thrilled with the fit between Lavine and Vucevic. However, the season still had a disappointing end as an ankle injury and a bout with COVID would sideline Lavine as the team failed to make the playoffs. 
But AKME wasn't done. While the Vucevic acquisition had bolstered the team's chances for the 2021-2022 season, they still lacked a strong starting guard to complement Lavine in the backcourt, as 2019 draft pick Coby White had glaring defensive and floor-running issues . Then came August. Immediately at the beginning of free agency, it was announced that the Bulls had traded for New Orleans Pelicans guard, Lonzo Ball. They would also sign Los Angeles Lakers fan favorite and guard Alex Caruso to further improve the backcourt. The Bulls would surprise the NBA by acquiring San Antonio Spurs star forward DeMar DeRozan in another sign-and-trade deal. Their last major move would be flipping disgruntled forward Lauri Markkanen in a three team trade to acquire draft capital that had been lost from prior deals. AKME had almost completely changed the roster over the course of one year, with Lavine, Williams, White and two-way player Devin Dotson being the only remaining players. Aside from concerns about overpaying DeRozan, analysts largely lauded the Bulls aggressiveness, praising them for taking advantage of Chicago's big market and attracting big name players. However, many had reservations about the players' fit and defensive capabilities.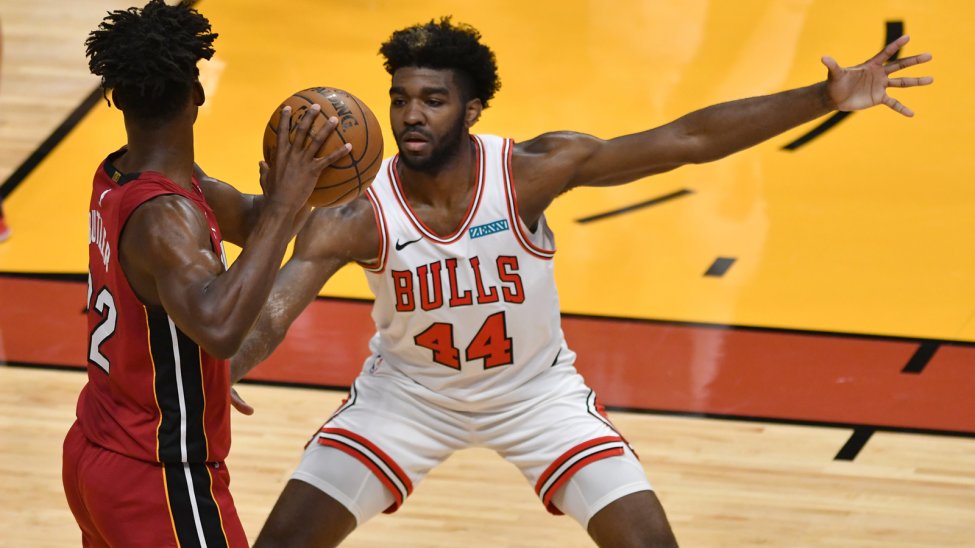 It wasn't until last week that Bulls fans finally got a glimpse of what the team will look like this year, but it was worth the wait. Lavine is scoring effortlessly in an off-ball role, while Vucevic's rebounding and post game have looked smooth. DeRozan has shown off his incredible touch from midrange. Ball has played exactly as advertised, pushing the pace, moving the ball, shooting lights out, and deflecting passes with reckless avail. This team appears to have depth as well, with players like Caruso, Javonte Green, Alize Johnson, and even rookie Ayo Dosunmu proving to be contributors off the bench. Green specifically has been an unexpected success, playing as a starter and showing off his tenacious defense and voracious rebounding. The Bulls have won their first two games by 36 points a piece, averaging 126 points per game and holding their opponent to 90. The starters already seem to have amazing chemistry with each other, and as a team, ball movement, rebounding and defense have not looked this strong since the early Derrick Rose years. Keep in mind that in these first two games, Williams (ankle injury) and White (left shoulder injury) have not been available and the Bulls look even more impressive. While White's role with the team remains to be seen, Williams is projected to start alongside Lavine, Vucevic, Ball, and DeRozan; his return will further improve the Bulls' defense and floor spacing. Even though it is only preseason, this style should carry over to the regular season against more formidable opponents. 
It's been a wild turnaround for the Bulls over the course of a year that has set up a bright future. AKME has helped bring about an exciting new era of Chicago Bulls basketball. Da Bulls are back!
Leave a Comment