Takin' a Swing At It
Starting the 2021-2022 school year off with a swing, the Hinsdale South Girls Tennis Teams started their season before school began. The entire program is made up of one varsity team and two junior varsity teams (1 and 2), who practice every day after school preparing for future meets and, for some, the IHSA sectionals in the middle of October.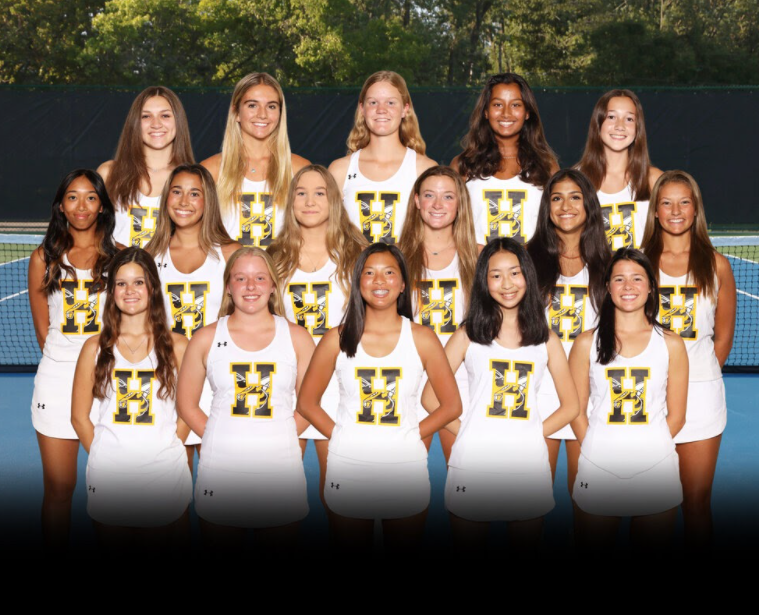 Having already played several games against other schools, the girls feel a great change on the court compared to last year. "This year was way more fun because [we] get to have practices with less COVID related rules…" said senior varsity player Gracie Wilcox. One example she gives is not needing to switch tennis balls between teams when playing each other. Along with benefits this year, there were some inconveniences along the way. Junior Avni Verma, also a member of the varsity team, explained, "One of the biggest changes is having a less flexible schedule." Last year, students participated in school virtually, allowing them to have more free time and more management regarding their schedule. But since this year, students have returned to in-person learning, their schedules aren't as adjustable anymore. 
Even with many changes from last year, one thing that hasn't changed is the excitement towards sectionals, which takes place on October 15 at Lyons Township High School. As sectionals are approaching, players have all sorts of mixed feelings. Senior varsity player, Chase Metcalf, says that she is "super excited to go out and play [at] sectionals. I am working hard and hoping for first place…I want to redeem myself and try to win it," since she placed second last year, which is an extraordinary result already. Along with individual players' eagerness and determination towards sectionals, the program head coach, Stephen Snider, has some thoughts towards it as well.
"
[The team will] finish in the middle of the pack and are looking to qualify 1 or 2 entries between singles and doubles."
— Coach Snider
These thoughts from Snider are a great way to end the season with a smash. 
Hoping to perform well and achieve high scores, the tennis team heads off to sectionals in a few short weeks.
Leave a Comment