"Black is Beautiful"
Winner of Illusions' COVID-19 contest Rebekah Salvato explains the inspiration behind her painting
After Hinsdale South suspended in-person learning in March due to COVID-19, many students had trouble enduring the stay-at-home order. Notwithstanding, painting served as therapy for junior Rebekah Salvato and led her to create a stunning portrait painting utilizing acrylic paints, paintbrushes, and a canvas.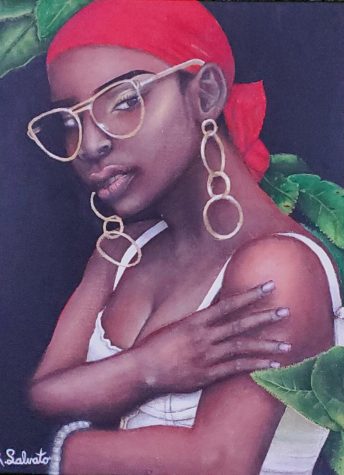 Salvato's idea for her painting was driven by a pattern she noticed in art galleries.
"What famous pieces of art can you think of made by black people? Of black people?" Salvato asked. "Why are our world's largest art museums lacking black art? Why are most museums filled with art by white men and about white men?"
She found her answer in the words of Rashad Robinson, the president of the civil rights organization known as Color of Change.
"It's about power. It's about the historical aspects of who has gotten to tell stories and who hasn't, whose stories have been mainstreamed, whose stories have been marginalized," Robinson said. "Hollywood does in many ways, have an unforgivable history of stifling black voices, black talent, black creativity, and black brilliance."
"
The lack of true representation inspired me [to] not only to paint a black woman but to title the piece 'Black is Beautiful' to challenge the status quo of the media.
— Rebekah Salvato
Leave a Comment