How the Internet Has Become a Virtual Time Capsule for the Covid-19 Pandemic
Music, paintings, and even dance have all been inspired by the global pandemic.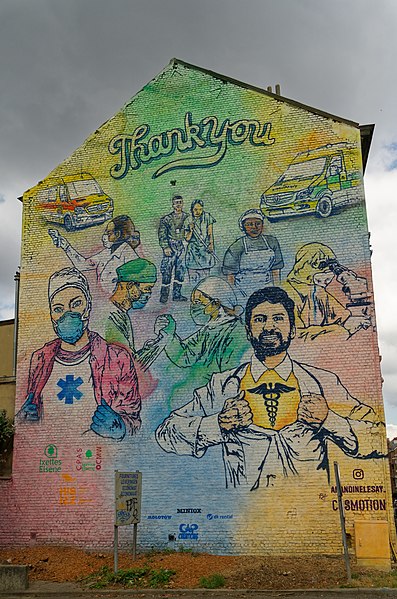 We are living in a time where seemingly everything is online. People in future generations can go back anytime to look at artwork from our time period, or listen to music from many years ago. In a way, the internet is kind of like a virtual time capsule for our lives. Art made during the COVID-19 pandemic is an important way to timeline the historic global event. Musicians, painters, and dancers have all taken part in putting art out to the world during these difficult times for the world and future generations to enjoy. 
Benee, a singer from New Zealand, wrote a song titled "Snail" while quarantining at her parent's house during the first lockdown. She had the idea after noticing the strangely large amount of snails in their yard. As she told NPR in an interview, "I wonder if the snails could tell I'm in lockdown right now." The song offers a glimpse into her own personal experience with quarantine and how she dealt with the times.
UNC Charlotte associate professor of dance Kim Jones created an online dance school during the global pandemic. Teachers from all over the world were able to instruct dance classes and spread their art to many people. Jones worked very hard to make these classes effective in the virtual setting, requiring that students could be visible on zoom to get the best out of the experience.
To highlight the efforts of artists, the Washington Post held a contest for the best art created during the global pandemic. They encouraged people to share their views of what it is like living through the crisis with their artwork. Illustrator Jennifer M. Potter shared her piece about social distancing with the contest. She believes that "even though we can't socialize in the usual way, seeing everyone make an effort strengthens the sense of community I feel, and I wanted to share that feeling with others."
All of the art, music, and other creations made during this global crisis will be online throughout generations for people to learn about this time. Whenever someone wants to have a glimpse into life during COVID-19 pandemic, the internet can show them.