The One Click Charity
What began in 2011 as a visionary idea to raise money, simply by opening tabs on the Internet, has blossomed into an organization that donates hundreds of thousands of dollars to charity each year. The organization's name? Tab for a Cause. 
Tab for a Cause's premise is simple: users install this free browser extension, and for every tab they open, a few banner ads appear in the corner of their screen (as shown below). These ads allow Tab for a Cause to raise money, much of which is donated to a charity.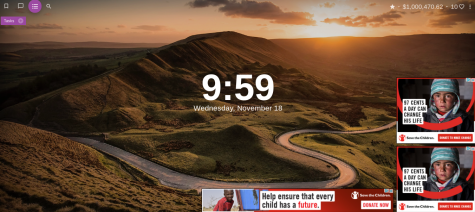 Over time, this "tabbing" adds up. In this past week, Tab for a Cause users (known as "tabbers") reached a milestone: raising over one million dollars for charities across the globe since the organization's launch in 2011.
Tabbers play an active role in deciding which charities receive these funds. In addition to raising money for every tab they open, users also earn one "heart." These hearts in turn can be donated to a plethora of charities Tab for a Cause has partnered with, such as Action Against Hunger, Save the Children, and Conservation International (to name a few). The distribution of hearts tells Tab for a Cause which charities users want to help.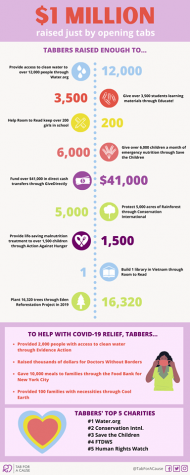 Teachers at Hinsdale South have also been encouraging their students to play a role in tabbing. Says science teacher Adam Hallihan, "I think [Tab for a Cause] is a great way to help people, and it doesn't require any donation on your part. All it does is require you to open tabs, like you would normally. So I think that makes it something anyone can do and I hope that everyone would take advantage of it."
Installing Tab for a Cause is a small, yet meaningful step towards making a difference in the world. Whether it be providing families with access to clean drinking water, or giving children the food they need to survive, helping others has truly never been easier. To join thousands of users in these efforts, click here. 
Leave a Comment