South Drama Club Performs "Wizard of Oz"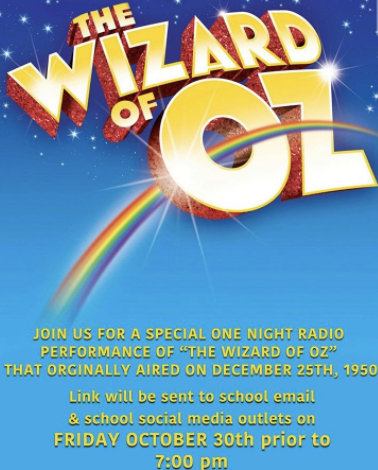 On October 30th, the Hinsdale South Drama department will be releasing a radioplay version of the Wizard of Oz. The link for this special, one night only event will be sent directly to all Hinsdale South email addresses and published on school social media accounts.  
So, what exactly is a radioplay? A radioplay is an entirely auditory drama performed without any visual components. They are completely dependent on the music, sound effects, and the actor's dialogue to convey the story to the audience. The first radioplay was broadcasted in the 1920s and quickly became a popular source of entertainment amongst a wide variety of people. The Wizard of Oz, originally released as a movie, also became one of these after gaining popularity. On Christmas Day of 1950, Judy Garland (Dorothy) and Lux theatre members recorded a shortened edition of the original movie to be played over the radio.
The cast has been working tirelessly for weeks to make this radioplay happen by rehearsing over zoom. As we all know by now, having to rely on technology for nearly everything in the Covid world can be incredibly frustrating. This new form of rehearsal has been no easy task for the cast members: there have been numerous technical issues and connection problems which make everything much more difficult. 
The cast will record the show by setting up socially distanced microphones at the school and reciting their lines. Music will be done similarly- the ensemble will sing classic songs like "Follow the Yellow Brick Road" and "Ding Dong the Witch is Dead", with prerecorded instrumental parts. Then, over the course of a few days, they will edit all of the lines and music together so it flows properly. 
Mr. Yuska, sponsor and director of the drama club, explains that he ultimately chose this "because it's a familiar title, and choosing a radio play that is popular might spark some interest." And it definitely is sparking some interest among South students and parents, as many have been spreading the word about the event on social media and encouraging others to listen in and enjoy the show.