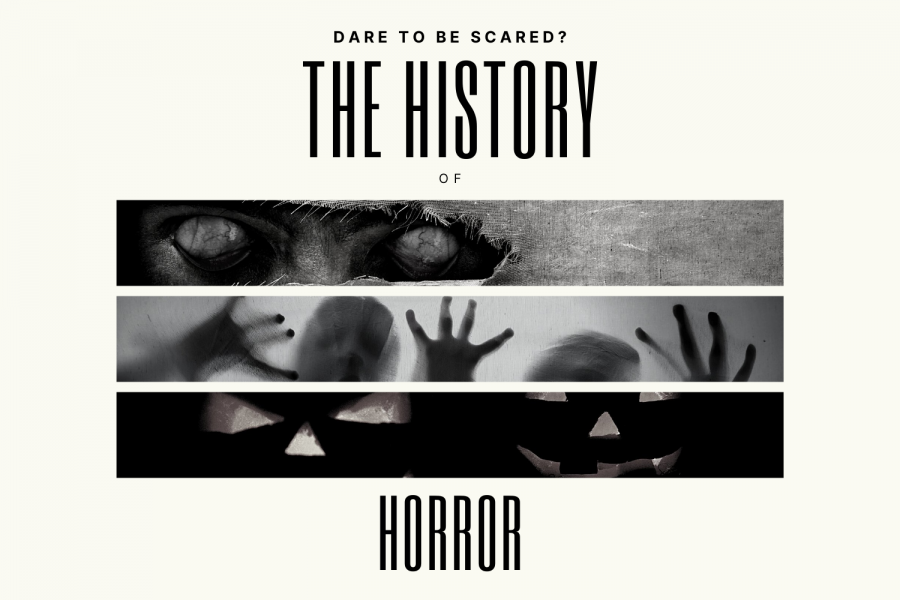 The History of Horror
October 12, 2021
With Halloween just around the corner, October ushers in the perfect season to kick back and watch classic horror films and TV shows! But how did horror become such a popular genre? How has its gothic history managed to stay alive in such a competitive artistic climate? And most importantly, what should you watch this Halloween?
Horror, as a genre, has been a classic form of literature and media for centuries. The first gothic novel in English dates back to 1764 with the classic novel, The Castle of Otranto. It follows the story of Manfred, lord of the castle, and his family, who are tied into an inexplicable event as part of an insidious ancient prophecy. The novel shaped modern day horror literature, films, shows, and gothic subcultures.
On the other hand, Le Manoir du Diable ,or The House of the Devil, is widely regarded as being the first ever short horror film, released in 1896. The short film takes place in France and tells a tale about a bat who shifts shape into the demon Mephistopheles. The film was greatly frowned upon because of France's religious nature. However, it branched out of the Catholic perspective, captivating writers and filmmakers all over Europe.
Decades later, during the 1920s, the German Expressionist movement began incorporating horror aspects into film noirs, garnering more attention towards the rather peculiar genre. Due to the nature of horror films drawing aspects from literature, films based off of classic novels by Victor Hugo, Edgar Allan Poe, and Mary Shelley, began being produced in the United States, specifically by Universal Pictures, earning the studio's films a title of "Universal Classic Monsters" (hence why if you visit Universal Studios, they have a comedy show about their horror VFX).
The Roaring '20s' silent films (no matter how oxymoronic it may sound): The Hunchback of Notre Dame, The Phantom of the Opera, and The Cat and the Canary, drew in new crowds and formed new subcultures for the horror genre, causing it to become increasingly more mainstream. By the '30s, films have developed a ground-breaking new quality: sound. Classic horror films such as Dracula, Frankenstein, The Mummy, and The Invisible Man became staples in American culture and film-centric history, welcoming in new ideas and experimentation in the film industry.