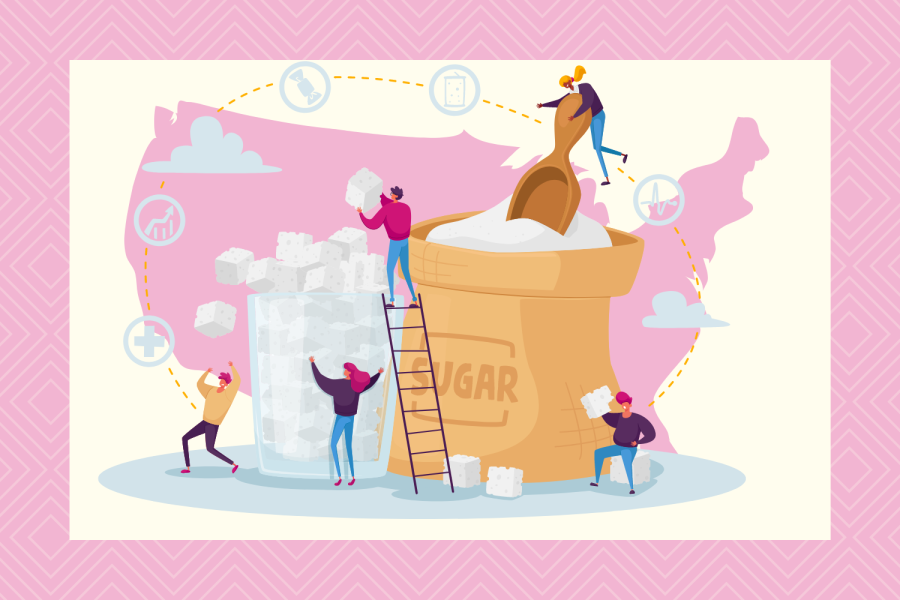 If you've ever gone grocery shopping, chances are you've stumbled across a nutrition label littered with sugary ingredients—but you probably didn't realize it at first.
Added sugar cloaks itself under many names: glucose, maltose, sucrose, maple syrup, fruit juice concentrates, and agave nectar, to name a few. For a long time, added sugar (and all its stealthy synonyms) have snuck their way into American cuisine and diets. Some 60% of food sold at a typical grocery store contains added sugar, and Americans are prone to eating triple the recommended daily intake.
In an attempt to expose surreptitious sugars and combat this overconsumption crisis, the Food and Drug Administration has recently modified nutrition labels to include "added sugar" under the category of "total carbohydrates."
The results have been overwhelmingly successful. These modified labels not only communicate to consumers exactly what they're snacking on, but they also encourage manufacturers to reduce the amount of sugar added to products.
A Massachusetts health agency concluded that the change in labels could prevent over a million cases of Type 2 diabetes and heart disease annually, saving billions of dollars in health care costs.
But sugar labels are, in the words of the American Heart Association's journal "Circulation," "low-hanging fruit." Labels can change consumer choices, but they can't control humans' irrepressible cravings for sugar. Cravings date back to millions of years ago, to a time when primate ancestors relied on ripe fruits as their main source of energy. These ancestors also realized that eating sugary treats releases dopamine, which explains the feel-good sensation you get from munching on a candy bar.
That being said, ancestors aren't the only ones to blame for your sweet tooth. In the 1970s, the food industry realized it could capitalize on evolutionary cravings by introducing high fructose corn syrup. In the decades since, food manufacturers have begun to sneak high fructose corn syrup into bread, beverages, and even baby formula. Virtually every age group has suffered the consequences.
Obesity rates have skyrocketed in a matter of years. Children, who were especially targeted during this craze (largely through advertisements featuring their favorite celebrities chugging a sweet drink), became hooked on sugar, developing dietary habits and health problems that would follow most of them through adulthood.
While today's children are similarly susceptible to such advertisements, some progress has been made. From 2003 to 2016, the percentage of children who drank more than 500 calories' worth of sweetened beverages daily dropped from 11% to 3%, according to the Harvard School of Public Health. Additionally, the US Department of Agriculture found that Americans are eating 14% less added sugar now than they were in 1999, when sugar consumption was at an all time high.
Despite these small victories, the prevalence of added sugars is still a crippling issue. As long as corporations continue to exploit the desire for sweets, there likely won't be major improvements in dietary patterns anytime soon. Rather, it seems like Americans will be grappling with the bitter effects of this sugar epidemic for years to come.